Gail Friedman (Mexico, born South Africa)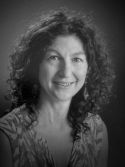 Gail is MiDDLEGROUND's associate in Mexico. She is a life and business coach, with a particular interest in leadership development and education. Her practice is driven by a commitment to helping people create environments that enable them to thrive and achieve lasting change.
Gail is passionate about the inherent possibilities available in any system. Her work helps clients to recognize, release and develop these in order to facilitate clarity and growth for both the individual and the system.
Before completing her training in Coaching, Gail studied Psychology at the University of Cape Town, SA and completed a Master's Program in Adult Education at the University of Manchester, U.K. She has worked in a variety of Non-Governmental Organisations as well as in educational environments.
_____________________________________
"The programme was excellently delivered. The knowledge I acquired is priceless and beyond work can be applied to life."
Participant in MiDDLEGROUND Leadership Programme
_____________________________________