Karima Grant (Dakar, Senegal)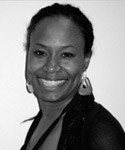 A writer for children and young adults, Karima designs and facilitates high impact leadership programs, team-building, and organizational development seminars in English and in French.
With over twenty years experience working in the human services, Karima brings her keen insight, deep compassion, and a vibrant energy to any organization or individual's quest for personal and professional excellence.
Karima's passion for language as a tool of empowerment inspires clients to access courage as a source of greatness, and creativity as a sustainable solution to evoke powerful positive change in the world.
_____________________________________
"The programme was excellently delivered. The knowledge I acquired is priceless and beyond work can be applied to life."
Participant in MiDDLEGROUND Leadership Programme
_____________________________________