Tony Page (London, born UK)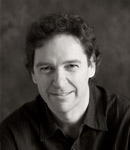 Tony believes in people's potential to be leaders and to bring out leadership in others for the benefits of the stakeholders they serve.
Drawing on 25 years consulting experience in over 80 organisations (private sector, government, NGOs) and 38 countries, he specialises in leadership and change. His "system shifting" approach taps into the positive power of story to expand capacity in leaders, teams and whole systems.
Author of two best selling books ("Diary of a Change Agent" and with Philip Goodwin "From Hippos to Gazelles: how leaders create leaders") Tony studied psychology at Nottingham University and is a Chartered Psychologist. He runs Delivering Transformational Change for CIPD. Tony coaches and trains executives, and facilitates senior level teams to achieve breakthrough results by re-aligning towards purpose, team and their "real work".
_____________________________________
"The programme was excellently delivered. The knowledge I acquired is priceless and beyond work can be applied to life."
Participant in MiDDLEGROUND Leadership Programme
_____________________________________