Twalib Ebrahim Hazara (Nairobi, born Kenya)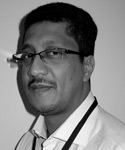 Twalib's work methodology is informed and nurtured by his belief in valuing others and working with differences.
He runs programmes of leadership, teambuilding, organisational culture and strategy development to create change and impact. His broad experience includes work for public and private sectors as well as NGOs in Africa, the UK and Pakistan including British Council and the charitable trust The DEPOT (Dan Eldon Place Of Tomorrow).
He is committed to experiential and participatory learning as he believes participants need to find their own solutions to challenges they face, and sees his role as the catalyst to help clients reach those solutions through a more efficient process.
_____________________________________
"The programme was excellently delivered. The knowledge I acquired is priceless and beyond work can be applied to life."
Participant in MiDDLEGROUND Leadership Programme
_____________________________________