Umar Kawu (Lagos, born Nigeria)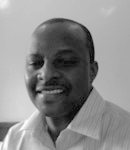 Umar is a Leadership and Management Development Consultant, who provides support to organisations in different sectors of the economy to make them better at what they already do well.He has worked across Nigeria and about thirty (30) other countries.
He had earlier worked in Restral Consulting, Swiss Pharma, Colgate-Palmolive and Pfizer Products as a Senior Consultant, Area Manager, Product Manager and District Manager respectively.
Umar is a Fellow of Leadership For Environment And Development (LEAD) International; Member, Nigerian Institute of Management (Chartered) and Member, Pharmaceutical Society of Nigeria. He has an MBA and a degree in Pharmacy from the Ahmadu Bello University, Zaria, Nigeria.
_____________________________________
"The programme was excellently delivered. The knowledge I acquired is priceless and beyond work can be applied to life."
Participant in MiDDLEGROUND Leadership Programme
_____________________________________